Player Technical Profile QL On-Premise
Click here for the Technical Profile video tutorial.
Click here for the Player Management video tutorial.
QL Server On-Premise users have access to the following player technical profile window: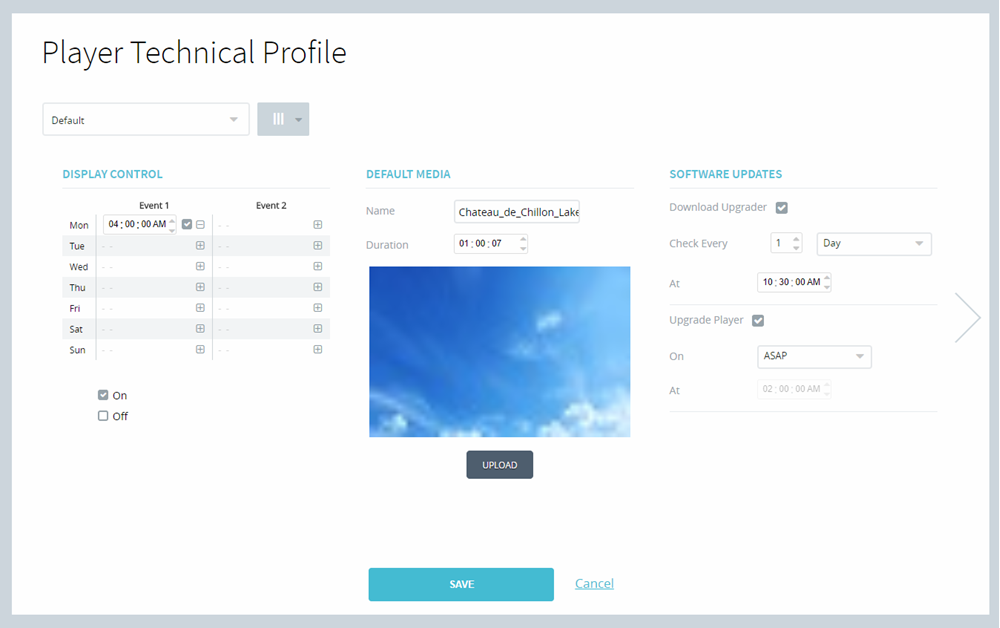 Clicking the right arrow will switch to the second screen:
QL player technical profile settings regulates the following (this applies to QL On-Premise):
Display on/off periods.
Default media (can upload a file and set duration if static content).
Set the QL Player auto-update options (1) Download the software installer, (2) Activate auto-updates and select update time/day.
Set Player clock synchronization with QL Server's.
Set the player reboot time.
Activate and configure unused content purge.
Set analytics log file retrieval cycle (default, 1 hour).
Set the player content storage threshold for O.S. and Content folders.
Set the schedule retrieval interval/auto-update settings.
*NOTE: Navori recommends enabling the Auto-Update feature as this will ensure your players will always have content to display, as long as there is content scheduled and pushed to players.  If you do not enable this feature, and you do not publish any updates within the "Days downloaded" period, your players will display the default media after the assigned number of days.