Information for customers upgrading from QL version 1.x
QL 2.0 is a brand new software product developed over the past three years.
This new version adds a significant number of new features over the previous one.  This page provides useful information for Navori QL 1.x users.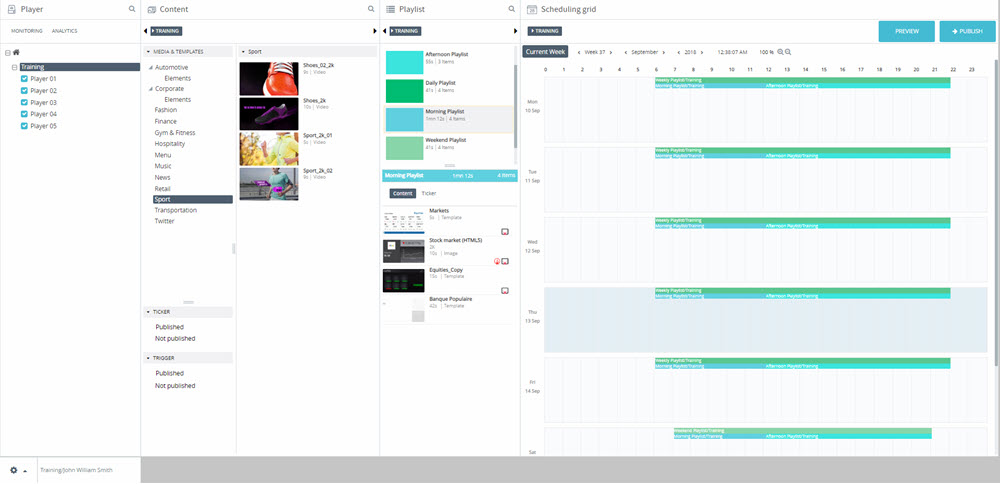 New Content Manager Features
Totally new native HTML5 user interface. Requires no plugin for any browser, on any OS.
Video preview now available in Content Manager.
Completely revamped WYSIWYG template and ticker designers. Users can see actual content and data feeds in template and ticker zones while they work. No more guessing.
Facebook, Google Calendar and Twitter social media feed support. This feature has been completely rebuilt and supports current social media APIs.
Support for Microsoft Exchange data feeds.  No additional programming is required.
Enhanced meta tag support. Users can now include or exclude tags to determine playback. Match between player and media can be partial or exact. New window allows assignment in batch mode. Playback reporting can be selected by tag.
Template and ticker text and data fields now let users select the vertical alignment. All 3 alignment types are now supported (top, middle, bottom).
Mobile and tablet friendly simplified UI lets users edit data and images while on the go.
Users can now swap media content in the library. All previously entered media properties are retained.
Users can search for a media within playlist window and edit a media or template from the playlist.
A total of 10 overlapping playlists can now be merged in the planning grid. Previous versions only supported 5 overlapped playlists.
New advertising campaign management feature lets users program content based on future ad impressions. Campaigns include a mix of user selectable filler content. Advertising features can be controlled by any third-party system using the Navori Server SDK.
New programming preview feature shows a list of all content to be played within a future period with precise time allocations and number of impressions for each item.
New Single Sign-On – ADFS authentication: QL accepts corporate domain authentication from the internet.
Enhanced multi-tenancy features: Specific player technical profile and meta-tags are now domain user editable.
Remote player reboot and reset from within QL Content Manager. No additional software required.
New interface language added: Bulgarian, Croatian, Estonian, Danish, Dutch, Finnish, Hindi, Hungarian, Indonesian, Italian, Japanese, Korean, Lithuanian, Malay, Norwegian, Polish, Persian, Russian, Romanian, Serbian, Slovak, Slovenian, Swedish, Tai, Turkish, Ukrainian and Vietnamese.
NEW QL SERVER (BACK-END) FEATURES
Download queue management prevents server from overloading. Instead of bulk data transfers on each update, content publishing is optimized to match available resources.  QL 2.0's smart content transfer considers the server PC load and available bandwidth.  Data is queued for transfer accordingly.
Enhanced load balancing / fail over add-on module: New server back-end architecture supports load balancing and fail-over to deliver 99.999% reliability.
New support for Microsoft Azure SQL databases with fail-over and geo-localization support.
New content delivery network (CDN) add-on module: Player media downloads are performed using Microsoft Azure BLOB, extending server scalability to twelve thousand players, or more.
QL 2.0 is security and stress-test certified through a third-party certification agency.
New software installer and upgrader compliant with QL 1.x versions.
Enhanced QL Server SDK now supports the development of native mobile and HTML 5 user interface apps.
NEW QL PLAYER FEATURES (ALL OS)
New support for image and data feed preloading
New Facebook and Google calendar data feed support without the need for third party or custom software.
Reboot and purge Player content from QL Content Manager. No external third-party software required.
Improved QL Spy software provides enhanced interactivity with third party software application and interactive content.
Support for BLOB/CDN content downloads with file splitting when required.
QL Player – Android:
New multi-threaded rendering engine supports 4k content at 60fps.
Plays HTML5 content perfectly based on Google Chrome browser core.
Ultra-smooth traditional text crawls with transparency support at 2K and 4K resolutions.
LED billboard support (User-defined playback window size and position).
Enhanced support for RTSP, RTP and UDP streaming video content.
QL Content Trigger API for Android.
QL Spy: Use of QL player as a screen saver along with touch the screen / keyboard / mouse triggering interactive content.
Remote reboot tool included.
Proxy support with authentication.
Team Viewer now comes preinstalled on QL Stix 3500 media players.
QL Player now certified for Android 5.1 and 6
Specific APK for Philips professional displays with SoC, Panasonic AF-1 and Elo touch tablet. Apk can be downloaded either from hardware vendor's store or from QL Content Manager.
QL Player – Windows
New multi-threaded rendering engine supports smoother playback and enhanced frame accuracy. Players can now run four, 4k videos fully synchronized (represents 12k total resolution on a single PC).
New IPR (insane player rendering) ad-on module available.  This enhanced graphics engine supports up to 8K video playback on Windows PCs.
New graph and filter set for mp4 rendering. H265 is now supported.
QL Player is now Windows 10 certified.
Enhanced support for HTML5 content.
NEW SUPPORT FOR SYSTEM ON CHIP (SOC) DISPLAYS
Samsung Tizen SSSP SoC
Philips D, P and Q line running Android SoC
LG Web OS Soc
NEC OPS DRD2 Android OPS media player
Panasonic AF-1 Android SoC
Sharp Android SoC
Ben-Q Android SoC
Viewsonic Android SoC
Dynascan Android SoC
Elo solutions delivered with Android System on Chip (Soc) or ECM Android Computer Modules
QL STIX 3500 – 4K EXTERNAL MEDIA PLAYER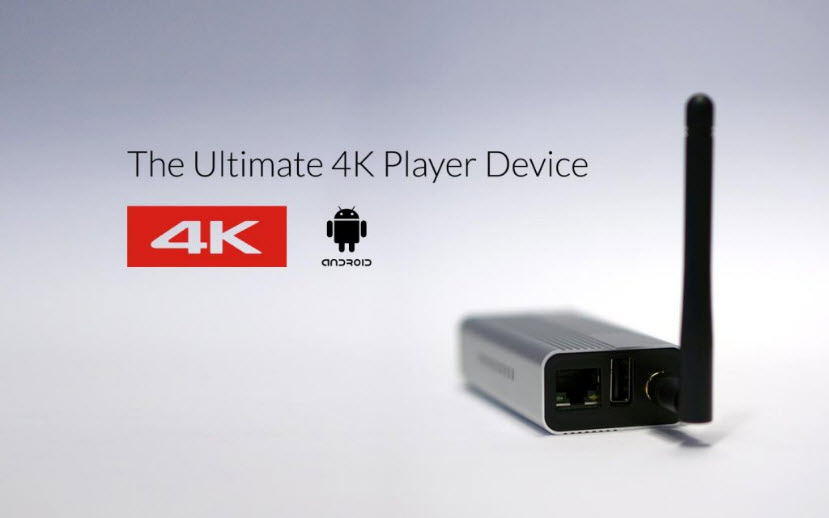 Native resolutions: 4K@30fps, 2K@60fps. Can render 3 videos @ 1080p simultaneously. Supports portrait and landscape display orientation.
HDMI 2.0 support for video walls and cross-screen content (connect up to 4 displays, each running in full HD resolution – 1920×1080 pixels).
HDMI-CEC control lets users power displays ON/OFF remotely. Auto-selects the display source.
Ethernet Gigabit, Wi-Fi 5G and 2.4G dual-channel wireless network support.
Built-in real-time clock (RTC) stores date and time on the device.
Automated QL Player software upgrades supported.
Remote reboot and reset.
Software and hardware watchdog included.
Supports online/downloaded HTML5 content with full interactivity retained.
True-Type fonts supported.
TEAM VIEWER and VNC remote control software supported.
3G connection Optional via USB dongle.
Warranty: Components/3 years. Labor/1 year.